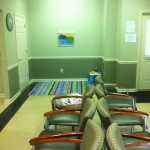 On Friday, September 14th the Carolina Treatment Center in Pinehurst, NC held their first community open house. They offered tours of their facility, invited community providers to set up informational tables, held raffle drawings, and had speakers to talk about substance use disorder treatment. I was one of the invited speakers and was asked to speak about how stigma impacts people and treatment.
After speaking, I had the opportunity to talk with one of their patients who is currently pregnant and one of the nurses who works at the facility. They both talked about the need for information on this topic and I was able to provide the patient some facts about neonatal abstinence syndrome. The nurse told me she prints off copies of my website for women and shared her appreciation for having materials that are free of medical jargon that she can offer to the patients.
I believe that opening the doors and showing the community what actually happens at treatment facilities can really work to reduce the stigma and intolerance that is associated with substance use disorder treatment facilities. In addition to staff, patients, and community providers there were also law enforcement officials who attended!
I hope the staff are proud of their event. They showed commitment to their community and their patients. Attendees also showed off some sweet dance moves. I think the event was a great success. I know how much work goes into hosting an open house and can't wait to see what they do next year!